People tend to prefer the ultra-modern in many aspects of life, from cars and gadgets to home design. However, when it comes to occasions such as weddings, the traditional and the vintage remain strongly in vogue. If you are keen to go down the vintage route, read on for five amazing themes guaranteed to indulge your nostalgia for the delights of the past.
Great Gatsby
One particularly popular vintage theme is Gatsby chic. To get as close as possible to Gatsby's own lifestyle, why not choose a grandiose waterside wedding venue? You can add to the atmosphere with vintage invitations, place cards and centerpieces, and opt for a palette of blues and creams. The bride can have period-inspired hair and makeup and perhaps even a flapper-inspired wedding dress!
Country fair cuteness
There is nothing quite like the child-like nostalgia surrounding a good old-fashioned country fair. This wedding theme is easy and enjoyable to pull off, requiring a variety of traditional accessories and goodies ranging from cotton candy and popcorn dispensers to balloons, ribbons, crepe paper and plenty of other fair-inspired treats to eat. You can even have a kissing booth and other fairground games to entertain your guests after the ceremony.
Soldiers in Uniform
There is nothing more memorable then what happened during the war with people coming together to fight for us. They were dressed smart, had lots of honor and pride and loved their families so much they would have done anything for them.  This is a true vintage look with lots of memorabilia available. You could even have vehicles from local air bases and get your wedding party to try Tank Driving before or after to see what it would have been like at sites including www.armourgeddon.co.uk/tank-driving-experience.html.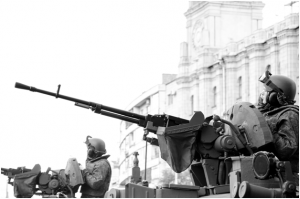 The Fairytale
Fairytale-inspired weddings are always a favorite. Brides can opt for a big, bold princess-style dress with Cinderella-perfect hair and makeup. If you have the budget for it, why not opt for a horse-drawn carriage or find a beautiful garden setting for your nuptials to evoke the dreamy magic of A Midsummer Night's Dream? A Huffington Post article offers several good ideas for this theme.
1950s-style tea party

If you have a penchant for the 1950s, why not opt for a classy '50s tea party wedding? Use a palette of sugary pinks and yellow, and select vintage clothing for the bride and groom. Add some '50s class with strings of pearls adorning the centerpieces and use exquisite vintage crockery and tablecloths to serve a '50s-themed menu. More inspiration can be found on LoveMyDress.
To capture your special day whatever theme you choose, you will need to find a good photographer. A wedding photographer can take memorable photos.
Now that you have some vintage inspiration, it's time to start planning your wedding!